As news of the iPhone 15 jams up the airwaves, you can also take a trip back to 1984, aesthetically speaking, with this retro desktop hub that channels the questionable beauty of the Macintosh 128K, but offers much more user-friendly modern appeal.From the makers of premium digital hubs, RayCue has drenched its latest offering in pure, adorable nostalgia.


The RayCue 128K is a 14-in-1 system that aims to be your all-in-one docking station. Available in a basic model and feature-added Pro, via Kickstarter, both offer a bunch of standard ports you'd expect from such a piece of hardware.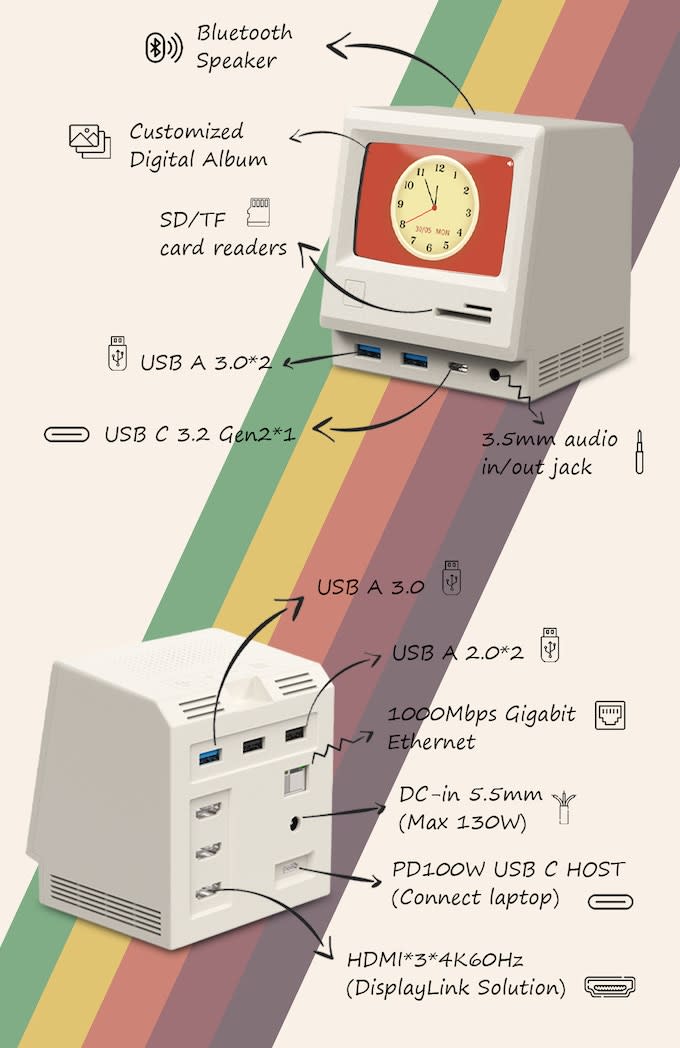 On the front, you'll find a TF/SD card slot, USB 3.0 x 2 and USB-C ports plus a 3.5 mm audio input. Turn it around, and you'll find: USB 3.0, USB 2.0 x 2, RJ45, DC 5.5 input, USB-C Host and HDMI (x2 on the 128K, x3 for the Pro).
Both models come with a 3.5-inch color display, which is customizable. Despite its size, it'll be a little better quality than what you could have expected from the original Macintosh.

There are some weight (840 g/1.85 lb or 1470 g/3.2 lb for the Pro) and screen-theme differences between the models, but the Pro also features a Bluetooth speaker for wireless music streaming, and can connect to an app that offers more customization. It also supports 100-W laptop charging.
Both models offer wide compatibility, supporting Windows 10 or above, ChromeOS 100 or above and macOS 11 or above.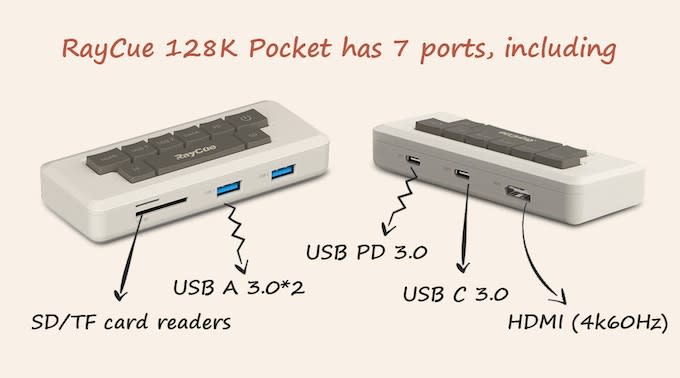 Proving this nostalgia package comes with a practical modern twist, RayCue has also designed an accompanying 'keyboard' – the 128K Pocket. A portable hub, it plugs into any laptop's USB-C port and offers TF/SD card slot, USB 3.0 x 2, USB 3.0, PD 3.0 and HDMI.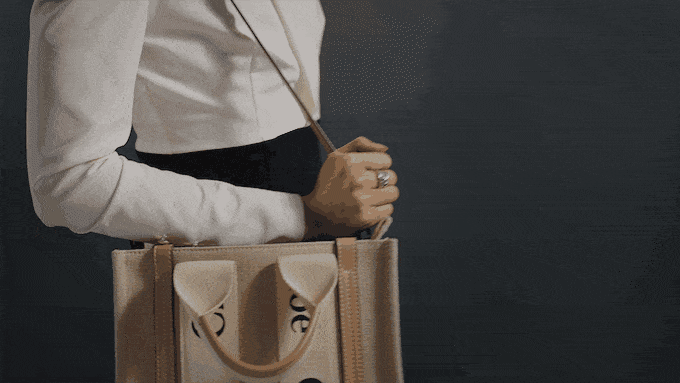 What your setup is like depends on how much you're willing to part with. While the Kickstarter campaign is running, the basic RayCue 128K system is US$169 (32% off), while the RayCue 128K Pro, which includes the Bluetooth speaker, is $199 (33% off). The Pro with the additional keyboard-like portable hub is $229 for the set (39% off).
Incidentally, the original Macintosh 128K, which hit stores at $2,495, would translate to around $7,000 today. (In that context, current Apple computers seem like a bargain.)
If all goes to plan, the RayCue retro units, which can be shipped anywhere in the world, are due out for delivery in December 2023.
For more, check out these videos below.